Categories :
Links
(An esoteric selection, made entirely at the discretion of the Web Sexton. No responsibility is taken for the contents of these sites.)
Anglicans in Australia
Diocese of Melbourne
Anglican Church of Australia
Victorian Parishes with Web Sites
(this list may not be complete)
St Paul's Cathedral, Melbourne
Mothers' Union Australia
Anglican Board of Mission (ABM)
Institute for Spiritual Studies
Anglican Religious Orders and Communities in Australia and New Zealand
ACARLA
Advisory Council for Anglican Religious Life in Australia
Orders for women
Community of Christ the King (OSB)
Community of the Holy Name (CHN)
Community of the Sacred Name (CSN)
(in NZ)
Community of the Sisters of the Love of God (SLG)
(in NZ)
Sisters of the Church (CSC)
Sisters of the Incarnation (SI)
Society of the Sacred Advent (SSA)
Orders for men
Little Brothers of St Francis (LBF)
Oratory of the Good Shepherd (OGS)
Society of St Francis (SSF)
Orders for men and women
Community of St Barnabas and St Cecilia (CSBC)
Society of the Sacred Mission (SSM)
St Mark's Abbey (OSB)
New Communities
The Little Company of the Good Shepherd (LCGS)
[top]
Anglicans Internationally

The Anglican Communion
The Archbishop of Canterbury
Anglicans Online
What do Anglicans Believe?
The Anglican Church welcomes you
The Church of England
Anglican Catholicism
Anglican Religious Communities
The Kingdom is Yours
Mothers' Union
Episcopal Cafe
An Anglican Timeline
The Anglo-Catholic Vision
Project Canterbury
Wikipedia's Anglican Portal
What it means to be an Anglican
Eucharistic Practice and the Risk of Infection
(PDF)
[top]
Liturgy and Spirituality
Daily Office: today's Lauds, Vespers and Compline
(link to Common Worship site)
Anglicans Online Liturgical Resources
Famous Anglican Prayers
Sacred Space
Bread on the Waters: Links on Prayer
The Wellspring Centre
Celebrating Common Prayer
- an online daily office
Spirituality and Practice
Oremus - daily office
An Anglican Liturgical Library
Pray-as-you-go
- daily prayer for your MP3 player
The Jesus Prayer
An Introduction to Christian Mysticism
Campion Centre
Fr Simon's Electric Ordo
- an anglican liturgical calendar that can be added to Google calendar, Outlook calendar or a PDA - excellent!
Liturgy
- excellent New Zealand site. The link below takes you to the daily office there (Morning Prayer, Evening Prayer and Night Prayer).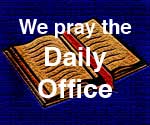 [top]
Opinion and Comment
The Ship of Fools
The Church Times
ABC Religion and Ethics
BBC Religion and Ethics
Ekklesia
The Story of Stuff
Eureka Street
The Tablet
[top]
Related Media
For the God Who Sings
Compass
Encounter
Religion Report
Scripture and Lectionary Podcasts
(put daily offices on your MP3 player)
LibriVox
- contains some free christian classics as MP3s
[top]
Other Resources
Christian Classics Ethereal Library
- a list of recommended reading available to download as e-books
Cyber Hymnal
Australian Churches
[top